Top 10 Mobile App Design Trends That Must Focus On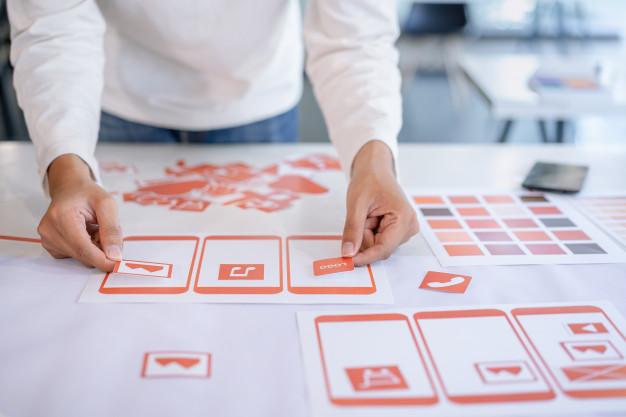 Top 10 Mobile App Design Trends That Must Focus On
It is a digital environment where the demand for mobile apps continues to grow. Such demand is creating vigorous competition among similar mobile apps. In particular, mobile app design is a significant factor that plays a vital role in increasing or decreasing the appearance of the application and user experiences. Consequently, the success rate of the Android or iPhone app depends on its design.
So, to make your mobile application unique, catchy, interactive, and well-engaging, mobile app developers should focus on the below-listed trends. We have compiled a list of key points that the mobile app development companies and businesses should remember to build a matchless application that meets the standards of the upcoming year 2022.
10 Key Application Design Trends
#1. Create An Interactive Design
If you are looking to market your products or services through mobile app development, creating a communicative app design will be an appreciable strategy in 2022to attract more users.
Mobile app development companies must focus on designing an advanced communicative app design that can extract and store behavior analysis of user's search. Such designing ways assist companies in well interpreting the user's choice and delivering the services or products they need and looking for. Hence, the interactive design will dominate other designing trends in the upcoming 2022.
Moreover, if you disclose Offers, Discounts, and Deals of the day like the content on top of your design or landing slide, you can grab the user's attention very quickly. 
#2. Focus On Font Style  
I believe in a proverb that the first impression is the best impression. Never think that the users will like what you develop. Think like a user when you develop mobile or web apps. Like the design, font style and size will also decide the success rate of applications.
Eye pleasant font style with delicate color scheme throughout app titles and succeeding content will attract user attention and encourage them to navigate through inner pages. Yes, a unique font style will increase the effectiveness of the app and engage users well.
Besides, never load the app with more content. Simple, clear-cut, and straightforward content makes app stuffs interesting and attention-grabbing and increases conversion rates. Therefore, a mobile app development company (USA, India, & UAE) should not ignore this to engage your audience, increase the app's visibility, and face digital competition in 2022 and the years ahead.
Proficient UX/UI designers can only create an attractive user interface with stunning fonts. Hire the best mobile app developers and UX/UI designers to set a font style that suits your mobile app.
#3. Integrate With 3D Animations
Yeah. Here is another key trend that Android/iPhone app development companies should remember in the upcoming years.
Nowadays, people are not much interested to read lengthy paragraphs. In this busy life schedule, they don't even have enough time to go through all the content that we added to apps. Instead of tedious long content, pictorial representation is one of the best approaches to promote services, products, or offers through apps.
Yes, the integration of 3D elements is a new technique to increase the app's appearance and attractiveness. 3D images will add elegance to the app design.
So, if your competitors are lack in adding 3D elements in their applications, take it as an advantage and add 3D graphics in your design. This app development strategy will assist you in creating next-level applications and attracting more audience base.
#4. Offer Dark Mode Facility
It is a pure and the most significant app designing trend for 2022. Giving the flexibility to switch from light mode and dark mode is also a tip for mobile apps development companies to create a successful application.
Classic dark themes in-app designs have gained popularity in 2021 and have bright scope in 2022 and the upcoming years. Facebook, Skype, Instagram like social networking apps have already adopted the market trend and offering light/dark mode facilities to their users.
Being the top mobile app development services provider, we suggest that allowing the users to switch amid dark or light themes will improve convenience and app personalization. When they get bored, they will toggle and access the app in color they love to use and see. Another benefit of the dark theme is that it saves the battery life of the mobile device.
#5. In-app Short Videos
Well. 3D representation or image depiction is far better than boring content representation. Here, my question is, what would be the best option than graphics or photos for product/service promotion? Guess what!
Short and sweet videos!
Integration of short promotional videos is a hot topic in 2021 and will help businesses grab user attention and increase conversion percentage with ease.
Most e-commerce brands like Amazon, Flipkart, and eBay are uploading videos with high-resolution images of product features. It will help the brands in explaining the product functionalities and improving conversion rates. Therefore, in-app videos integration ensures the best user experiences and is a profitable app design trend in 2022.
#6. Voice-enabled Systems
According to the market statistics, voice-enabled functionalities will have a bright future in 2022. The tech leaders like Apple, Microsoft, and Google have already implemented this futuristic design trend and enjoying its paybacks.
So, the integration of voice-controlled functions in your app ensures high accessibility to all types of users. I mean to say that people with visual disabilities or illiterates can even use their voice and access the application with ease.
Hence, due to convenience and hassle-free in-app navigation, voice-controlled features are the best and modern way of app design and development process.

#7. Vibrant Color Gradients   
Colorful app design themes in various gradients on the mobile screen will ensure a bright look to the app's UI. Driven by the increasing creativity levels of Android/iOS apps developers and UI designers, the opportunities for app development with vibrant color gradients are high.
The best mobile app development companies will focus on uploading the content on a vivid colored background scheme. It will improve the page look and also highlight the content or images on the front end.
For instance, designing the background of an app with a mix of three bright colors will make the page more attractive, adds life to the 3D elements that were placed on it, and finally, improve the user experiences.
#8. Minimalism Technique
Minimalism means the art of designing the landing or inner pages of a mobile application with tabs that add value to it. It's all about removing the unnecessary stuff from your application. Such simple mobile app designs help users in better navigation, decrease the size, and ensure quick loading times.
Therefore, this app design technique will save development time and the internal space of the mobile device. At Hyena Technologies, we build Android and iPhone apps with cool designs. Explore our mobile app development services for a better understanding of our creativity levels in app design and development.
#9. Typography- Spice Up Font Style
Typography is a technique that helps mobile apps designers in displaying words in a most attractive and readable manner. This technique will increase the look of letters, words, and even symbols (if any included in eth design part).
Along with 3D elements, readable and pleasant font style, modern minimalism style, implementation of typography technique will add beauty to your application. Since large titles are far better than messed paragraphs, highlight your main and core topics. This strategy would help companies to increase user retention rates.
For instance, BIG BILLION SALE title in extremely large font and dazzling style will grab more attention and click rate.
#10. Animations or Gifs
Micro animations are an ultra-modern design trend and let users interact with the app features with just simple clicks.
Final Words
These are a few best mobile app designing techniques. If you trying to connect with a broader audience base, implementing these strategies would help you develop an excellent app with a stunning design.
If you are looking for proficient mobile app designers and developers, your search will end here.
Hyena Technologies is one of the top mobile application development companies in the United States of America (USA). We have also a strong brand mark in India, UAE, and Kuwait as a popular Android and iOS mobile app development company.
Get In Touch with your app development requirements.