IoT In Manufacturing: How IoT Apps Are Transforming The Manufacturing Sector?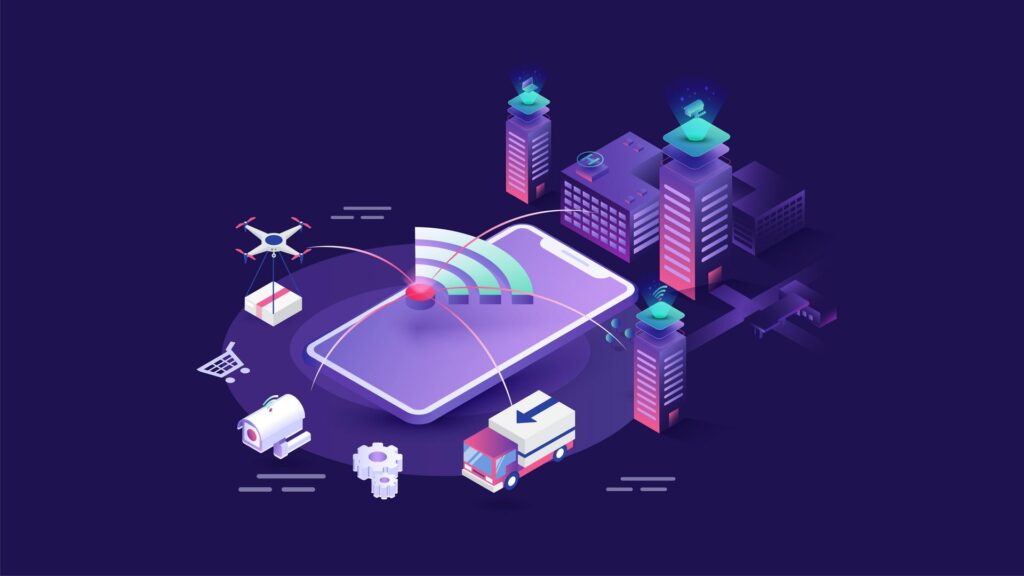 IoT In Manufacturing: How IoT Apps Are Transforming The Manufacturing Sector?
The Internet-of-things (IoT) technology is one of the most advanced digital technologies that is widely applied in many industries. This modern technology is coupled with Artificial Intelligence and Robotic process automation-like technologies is making miracles in the field of digitization and automation.
The manufacturing industry is highly open to adopting digital technologies to boost efficiency. Like other sectors, manufacturing businesses are increasingly adopting IoT technology to establish a connected digital ecosystem.
Leveraging the power of IoT apps for manufacturing operations, the companies across the production field are accelerating digital processes and witnessing improved productivity and automation.
This article would be like a guide for aspirants who are planning to invest in IoT mobile apps to drive efficiency in their end-to-end manufacturing processes.
What Is IoT In Manufacturing Industry? 
Simply, it's a challenge to bring digital transformation to the manufacturing industry. Yes. Implementation of IoT in manufacturing sector is evolutionary for companies to stay and bring innovation in production and automation in warehouse management.
Besides, the applications of IoT in manufacturing industry are also spanned across tracking and monitoring fleet in real-time, predicting the machinery or device failure, and taking actions before the equipment gets damaged.

Here are a few best advantages of using IoT in manufacturing applications:
What Are The Five Best Applications Of IoT In Manufacturing? 
IoT Apps In Manufacturing For Asset Tracking
It is one of the best use cases of IoT in manufacturing sector. Companies are investing in IoT development for monitoring and tracking their assets 24*7 in real-time. Manufacturers can track fleets, products, goods, logistics, and not everything they want using IoT-powered cellular apps.
IoT For Optimizing Facility Management
It is the second most reason for the increased demand for IoT technology in manufacturing. Leveraging IoT-connected sensors, manufacturing giants can monitor and manage their production facilities from remote locations.
IoT apps, devices, and systems will send alerts and emergency notifications to respective divisions regarding facility conditions. It would assist manufacturers in taking instant actions if they noticed anything going wrong in the production area.
IoT Applications For Predicting The Device Failures.
Here is the best mobile application of IoT in manufacturing. IoT-based mobile apps or integrated systems, using machine learning, deep learning, data science and predictive analytics algorithms, can intelligently monitor and analyze the device's functionalities and explores valuable insights into its performance. These insights assist manufacturers in predicting device failures and reducing maintenance overheads.
IoT In Manufacture For Supply Chain Management
How is IoT used in supply chain management?
This question is a buzz in the manufacturing industry. Manufacturing companies are optimizing their productivity by deploying RPA-powered manufacturing robots and AI-based intelligent automation systems.
Further, 90% of manufacturers are looking to adopt IoT to control and manage end-to-end supply chain operations. IoT is widely used for tracking goods from production centers, warehouses, and inventory management to distribution centers and point-of-sale.
IoT sensor apps monitor and collect data related to various parameters, such as traffic, weather, and insights into vehicles condition. The applications will send instant reports to the respective admins and help them in analyzing the reasons for difficulties (if any) across the supply chain operations.
Here are a few significant functionalities of the role of IoT apps in Supply Chain Management:
Connected sensors track assets and objects on-road
Manufacturers can monitor, locate, and address issues across logistics
Effective inventory tracking and management
IoT prevents manual errors and drives process efficiency
Completely modernizes supply chain management and improves visibility throughout the process
IoT Brings Connected Devices On A Single Loop
If your manufacturing units have located in multiple areas, how could you connect them, or how will you get the detailed operational information of all of your assets?
IoT-powered mobile apps are the best solutions for connecting remote assets and accessing them remotely. By default, IoT apps store data on a centralized cloud platform. It will assist companies in accessing the desired information of their assets anytime from anywhere.
These are the 5 best use cases of IoT in manufacturing sector. Implementation of IoT app development solutions will help your manufacturing operations unlock infinite digital opportunities that await you.
IoT applications or systems will also be used for quality control, optimized resource maintenance and utilization, instant response to market demands, etc.
Topmost Benefits Of IoT In Manufacturing
Let us see a few benefits of IoT in manufacturing industry.
IoT solutions enable remote monitoring of assets, production facility, and supply chain
Help manufacturers identify product demand and manage inventory
Automation across manufacturing and logistics processes will improve operational efficacy and reduce manual errors
Companies can maintain quality and uniqueness in their products
Help manufacturers analyze insights into equipment performance and take immediate actions to decrease downtime.
Businesses can make more informed decisions and optimize overall performance. 
Get In Touch To Know More Pros Of Using IoT In Manufacturing
Will IoT Development Gain Grip In 2022?
100% yes. The future of IoT technology in app development is promising.
IoT development has already gained popularity across various industries. Intelligent IoT solutions are assisting companies in many aspects. 
Here are a few IoT trends that let you know the scope of IoT app development in the future.
The IoT applications have become a resource for remote traffic management, and the demand will continue in the future for connected operations.
IoT-driven cyber apps monitors and prevents illegal data access across an enterprise ecosystem.
IoT apps development for tracking objects on the road is a big trend in the autonomous vehicle market.
The adoption of IoT and AI in the healthcare industry accelerates telemedicine, encourages remote patient monitoring, and improves patient outcomes.
The use of IoT for developing AR and VR apps will ensure new opportunities in the real-estate and game apps development sector and let brands stay on top of the competition.
A trend of delivering instant virtual responses using AI, Machine Learning, and IoT-based applications would be promising in 2022 and in the years ahead.
Wrapping Up
Driven by the availability of high-speed 5G network services, the emergence of Artificial Intelligence technologies, and Big data, IoT is evolving as a core part of the manufacturing industry.
Organizations and startups are gaining profits by using IoT in their manufacturing operations. Furthermore, IoT technology will be a driving force behind Industry 4.0 and its advanced versions.
About Hyena Information Technologies (Hyena.ai)
Hyena.ai is the best IoT mobile app development company in the USA, India, and UAE. Being a leading IoT app development services and solutions provider, we promise to deliver best-in-class IoT apps for the retail, manufacturing, automotive, travel, and healthcare industries.
Our IoT consulting services would also help you improve your user experiences and modernize your premises through deploying IoT solutions. We also offer AI development services and solutions, ML development services, and native/hybrid mobile app development services to brands, mid-level companies, and multinational organizations.
Let us know your industry and mobile app requirements (android apps / ios apps), and we build top-notch enterprise-centric or customer-oriented IoT solutions that scale up your business operations.
Let's connect and catch up the IoT app development opportunities!
Hashtags
BestIoTApplicationsForAndroid, BestIoTAppsForiPhone, IoT-poweredNativeiOSAppsDevelopment, MobileAppDevelopmentCompany