How Much Does It Cost For Dating Mobile App Development?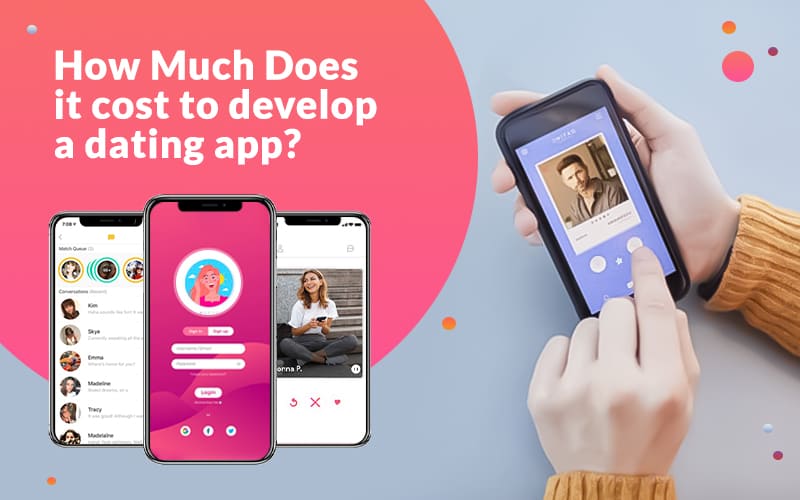 How Much Does It Cost For Dating Mobile App Development?
Mobile technologies have changed the way how human-to-machine and human-to-human interact with each other. Along with chatting or video calling mobile apps, the demand and downloads of dating apps are also increasing rapidly.
Dating apps for Android and iOS are revolutionizing the way people find others, interact, chat, connect, and meet. They are better, secure, and friendlier platforms. These creative mobile applications help people find a person who matches their preferences and start a conversation with ease.
Tinder, Bumble, eharmony, and Badoo are a few of the best dating apps in 2021 that help users find buddies and partners. Surprisingly, the usage and demand for popular mobile dating apps like Tinder were at peaks even lockdowns due to the COVID-19 pandemic.
Whether to find friends or to make serious relationships, people are giving priority to install dating apps. The app allows them to swipe left or right to find potential matches and connect online in minutes.
Moreover, the app's video meetings, user authentication, and high-security features contributed to the mobile dating app's success.
This positive switch of the people towards dating apps usage offers abundant opportunities for enterprises. If you have a plan to create a Tinder-like successful dating app, this article will give an idea about the dating app frameworks, features, and development costs.
Let's look at the three popular dating apps for android and iOS.
The Best and Popular Mobile Dating Apps In 2021 That Occupied The Highest Market Share
#1.      Tinder- (Available for Android & iOS)
Tinder is one of the best dating apps in the online dating industry. In this mobile age, finding people who meet our preferences and connects to our mindset is pretty simple if you have a Tinder-like famous dating app on your android or iPhone.
Tinder is developed with the concept of swipe and scroll to meet new people. Tinder is a safe and secure dating app where users can swipe, connect, and chat online with others on mutual interest.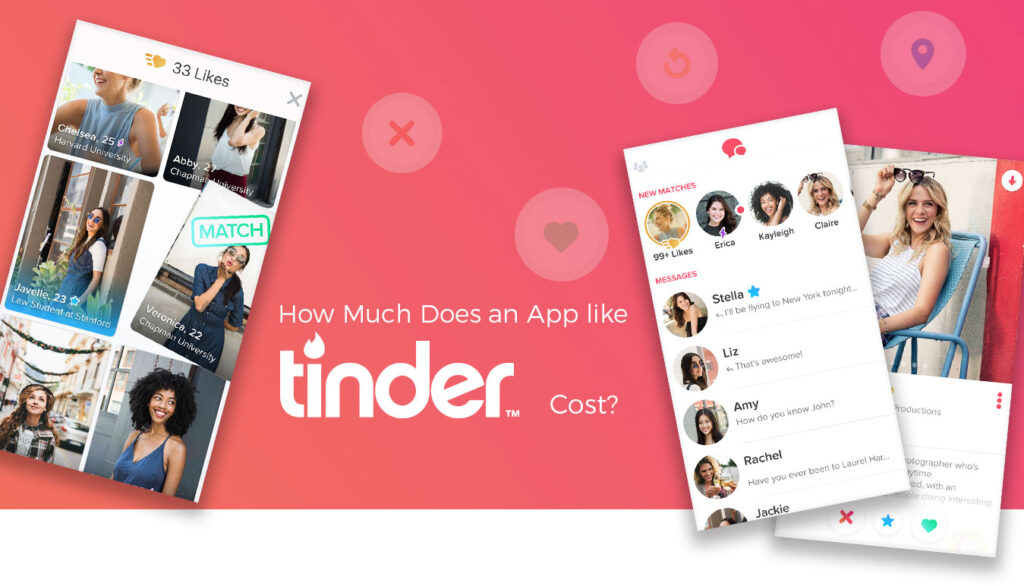 Further, with its in-app video chat or calling feature, users can connect and enjoy a video call with their contacts comfortably from the home. Currently, this feature is available for Tinder users across the US, UK, Brazil, Australia, Spain, Italy, France, Vietnam, Indonesia, Korea, Taiwan, Thailand, Peru, and Chile.
Tinder was encouraged with the high success rate of the free-to-use version and launched Tinder Plus and Tinder Gold premium subscription models in 2015 and 2017. Since then, in terms of downloads, active users, and premium subscribers, Tinder has witnessing prominent results.
As of August 2021, the Tinder dating app has over 100,000,000+ downloads, over 75 million monthly active users, and nearly 6.2 million monthly subscribers.
On the revenues front, as of Statista, Tinder reported 18% of increased revenues to USD 1.4 billion in 2020 over 2019 (USD1.15 billion).In the below figure, we can justify the profitable revenue curve of the Tinder dating app from 2015-2020.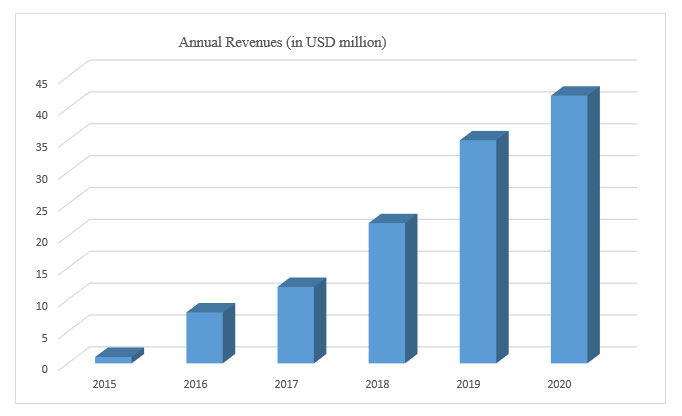 Here is the subscriber's growth of Tinder-like dating apps for the past five years.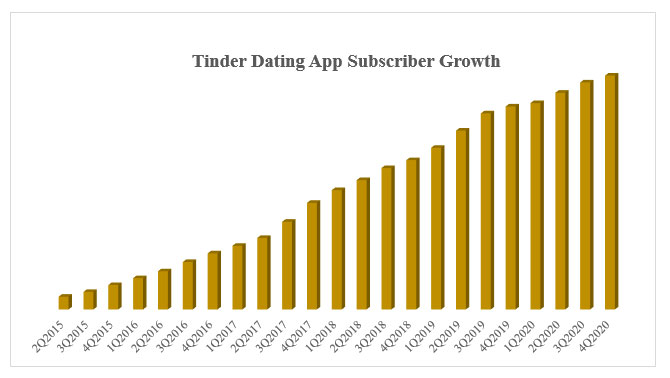 Would you like to develop a Tinder-like popular online dating application and grab the market opportunities?
Want to Know How much does it cost to develop an app like Tinder?
Get in touch with Hyena, the #Best Mobile Apps Development Company, for your futuristic mobile dating app development.
#2.      Bumble- The Main Competitor To Tinder Mobile Dating App
Bumble is the world's second-largest dating application for android and iOS. Bumble is one of the tough competitors to Tinder. The app has millions of active users who have installed it to start finding friends, building genuine relationships, and making huge connections.
Bumble is designed with a unique concept- Women's message first. It means if the opposite gender dint gets any text within 24 hours, then the app considers that connection as unmatched.
Unlimited Swipe and chat features of Bumble enable the users to find perfect matches and build a relationship on a secure platform. Further, the app allows the users to tie Spotify and Instagram accounts and share their interests with their connections.
Like the Tinder app, Bumble is also offering a Video Chat feature to help its users know deep about their matches.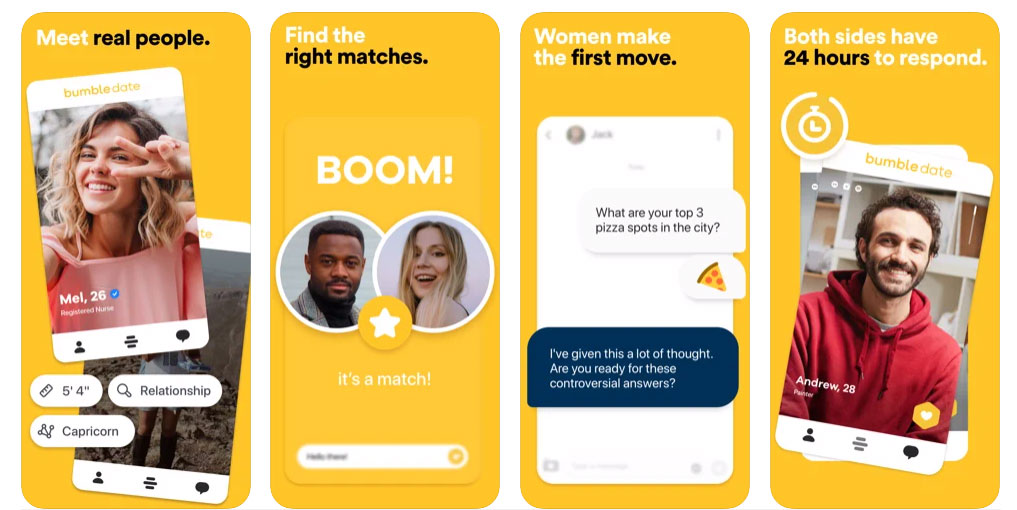 As of 2020, Bumble has a total of 42 million active users and of which, 1.2 million users were subscribed to the app's premium features. Have a look at the subscriber growth of the Bumble dating platform.
On the revenues front, as of 2020, the Bumble app reported USD 337.24 million revenues. The below figure depicts the growth of Bumble revenues: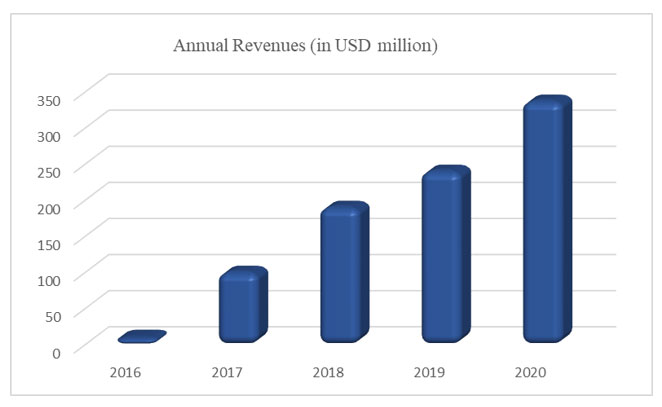 Want to Know How much does it cost to develop an app like Bumble a secure mobile dating platform?
Get in Touch!
#3.      Bindoo- One of the Leading Dating applications in Europe and America
Badoo has a 4.5-star rating and over 370 million global users spanned across 190 countries. It is the best dating application to chat, date & meets new people online. Video chat, verified profiles, private detector, and people nearby (helps in meeting nearby people by tracking their location) are a few of the best features of mobile dating apps.
The free and paid versions of the app are available on Google Play for Android and the Apple App Store for iOS/iPhone users to download.
Are you aspiring to make a dating app?
Get in touch with Hyena, a leading dating apps development company. We create futuristic mobile apps for brands, enterprises, and startups. Our skilled mobile app developers with years of experience in using modern mobile app development technologies create bespoke mobile apps that meet your business needs.
In this connecting world of ecosystem and pandemic situation across the global markets, the development of tinder-like popular mobile applications will help businesses in boosting revenues.
Get in Touch to Know How much does it cost to develop an app like Bindoo!
Features To Add In Trending And On-demand Mobile Dating Apps
When you have plans of developing dating apps for android or iOS, features you choose to add to your applications will decide its success upon launch into the market.
Whatever the app type will be, your new dating application should have Tinder-like features and functionalities for quick app recognition in the industry.
A dating application should have these features to deliver an unmatchable experience to its users:
Sign up or Sign in- This feature allows users to register & create their profile to access the app. Users can also log in through their existing Google accounts or any social media accounts like Facebook.
High-level Security- It provides high security to the content and user's confidential information; we must add the user authentication feature.
Create or Edit Profile – This feature allows users to add or delete or edit their personal information, partner preferences, photos, and many more.
Geo-location – This feature fetches the users' location and displays nearby connections to meet and date.
In-app chat feature for encrypted communication
Send request- this feature allows the users to send the request for their interests to chat or date.
Private albums- To let users add and store their photos in an encrypted way
Search and filters to find potential matches as per the users' preferences.
Push notifications- For alerts and updates on matches
In-app ads for app monetization purposes.
Free and premium subscriptions
AI-enabled dating app for tracking the locations of matches in real-time and communicating with matches
AR/VR capabilities to let users organize virtual dates
Virtual gifts- This feature allows the users to send virtual gifts to their matches
These are all user-specific features. Here are the basic features of the admin panel-
User Profile management
Multilingual support and management based on the user's location
Features management
Screen management for monitoring the users switch to in-app pages
Reports and analytics
Push notifications management
Revenue tracking
Technology stack for Android/iOS Mobile dating apps development
Programming Languages
Swift
Objective C
Java
Ruby/Cucumber
Rubymotion
Backend/API stack
js
Python
Bash scripting
Mapbox
JavaScript
Elasticsearch
MongoDB
Redis
AWS
GoDaddy SSL
How to Make Money Through Dating Apps Development?
It is vital to make the monetization strategy in the beginning while developing dating applications. Businesses can earn profits through dating applications in the following ways:
In-app shopping or any advertisements
In-app purchases of extra swipes, preferences, and emotions
Premium subscription charges to access special features like viewing the complete profile of the potential matches
Synchronization of ecommerce platforms to redirect and create income
Dating app owners can also earn money on every download from app stores
How Much Does It Cost to develop a Dating App With Basic Features?
The cost of dating app development depends on its complexity level, features, functionalities, and the mobile app development company that you hire.
With 20+ years of experience in providing mobile and web application development services, Hyena estimates that the development cost of dating applications with basic features for single platform (either android OS or iPhone OS) would be around $50,000-$72,000.
However, this price range might go beyond the estimated cost based on the apps requirements and hourly rate of the mobile app developers.
Want to know the development cost of dating application development?
Talk to our expert mobile app developers to know development cost of on-demand dating apps.