How Much Does it Cost to Build an App like BYJU's?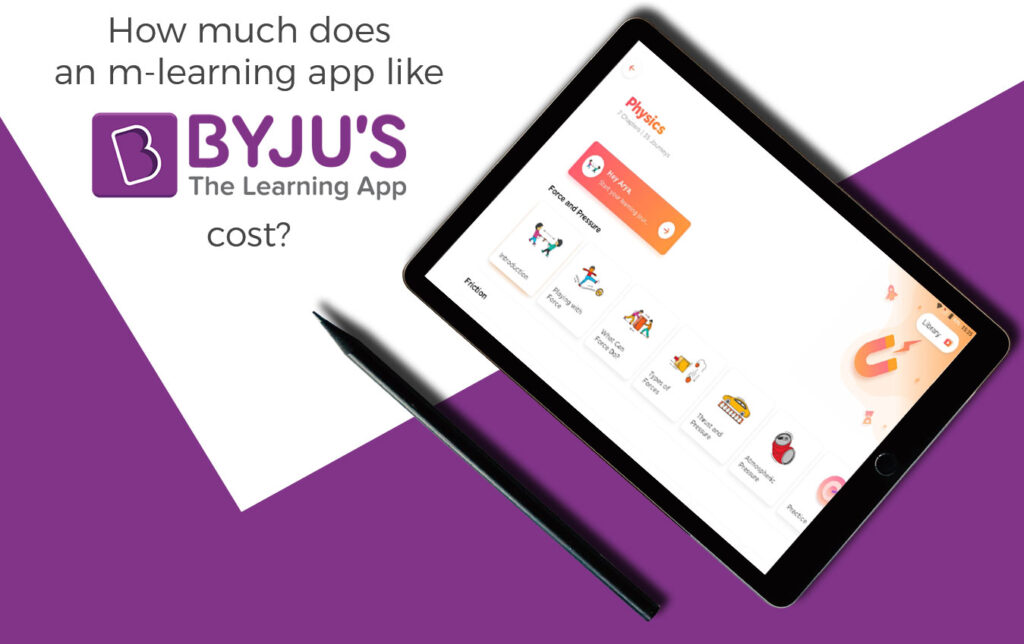 How Much Does it Cost to Build an App like BYJU's?
The learning apps are essential in present education systems to increase interaction, engagement, and performance among students. These apps help students to understand concepts in-depth with an easy grasping manner using various learning styles. You can find study plans from primary school to competitive exams.
The pandemic situation has emerged the need for e-learning applications like BYJU's. You can easily connect with virtual learning, dragging down the necessary to visit the physical centers. It brings the parents, learners, and teachers to one platform and connects. The flexibility of the e-learning app encourages students to learn new topics anytime and anywhere.
About BYJU's App
BYJU's app is the top-rated e-learning application in India that made education easy and enjoyable. This online learning app has over 40 million users and lakhs of paid subscribers with a great user retention rate. It is a successful app to build the interest of students towards learning. The digital animation videos for explaining the concepts will attract the children and help to memorize
The features like video classes, attend tests, doubts resolution, engaging videos, reports give students convenient and flexible access to the learning. BYJU's application provides education concepts for primary, middle, and high school grades. It also covers the syllabus for national competitive exams like JEE, NEET, CAT, GMAT, GRE, and IAS.

Features of BYJU's Learning App
BYJU's application support students in every way of learning. There are many features of this app that make it a go-to app for online education. Here, we have listed few features of the popular e-learning application.
Easy Login & Registration: The registration process of BYJU'S learning app takes only a few seconds with minimum information. We need to provide details like name, mobile number, grade, and location. The flexibility of logging in from mobile or desktop is also a reason for the increase in users.
Video Lessons: You can get access to thousands of engaging video lessons from experts for all grades and aspirants of competitive exams. These live classes are available for students in all subjects covering every single chapter. The visualization of concepts to the learners makes it easy to understand and remember.
Parent Connect: Parents can track their children learning progress in real-time with this feature. You need to give the registered phone number of the child and parent code in BYJU's parent app to sync and get details.
Doubts Resolution: It is essential to clarify questions while explaining the concepts to students. The popular online learning app BYJU's gives the flexibility to clarify their doubts from teachers during the class session. They will also have dedicated mentors to provide guidance.
Learning Process: BYJU's e-learning application has an effective learning style for students. It covers the complete syllabus with small concepts followed by practice papers and tests for every chapter. So, students can analyze their learning and know their progress.
Performance Tests: The learning process is never complete without giving the tests. The application has test modules that cover the entire syllabus for the grade. Students can know the concepts to concentrate on for better performance with the help of test reports.
Practice Papers: The leading learning apps like BYJU's always strive for student involvement and growth in learning. The application has practice papers for every chapter before taking the tests. These will help learners to revise concepts thoroughly and expertise.
Progress Analysis: The graph-based reports after every exam will give a clear view of areas to improve in every subject. You can check the overall statistics of topics learned, test attempts, and the average time for completing tests. It will help every student to know about their concepts to learn.
Notifications: Students can get instant alerts about any newly added video classes, Quizzo challenges, leader board ranks. This feature will intact the students to the learning app and help them to achieve new goals.
Bookmarks: It is a helpful feature in any online learning application. Students can bookmark the video concepts from a specific chapter in their account and refer to them instantly.
Get in touch with HYENA, the best learning mobile apps developers in the USA and India, to learn more about app design and development.
Flexible Grade Change: There is no need to register different accounts for each grade. You can flexibly choose classes in the profile section available in BYJU's learning application.
BNAT Scholarship: BYJU's national aptitude test will help students to identify their benchmark with others. They can also get scholarships based on the performance. Students will also have personalized counseling sessions on how to work and improve after tests.
Earn Badges: You earn a new badge whenever you complete a learning session. It will help to increase the competitive and learning spirit among the children. You can share the badges with your friends available in the app.
Quizzo: You can attempt the quiz with your friends or any random profile in the world. Students can choose from math, biology, chemistry, social studies, science, and general knowledge. The app helps the students to practice time management and learn more about a particular subject.
Benefits of Online Learning Apps in Education
There is an enormous influence of technology in present day education. It is because of the benefits offered by these e-learning applications. Let us have a look at them.
Virtual learning: The online learning techniques will help the students to connect from anywhere easily. They will never miss a chance of learning new concepts. It also helps to build their capability in using technology.
Communication: Learners can communicate flexibly with teachers anytime using these learning apps. They can ask their questions during learning, practice, and also after attempting the tests. The parents can also talk to the teachers regarding the progress of their child.
Learning Methods: The popular learning app like BYJU's has brought new methods of learning, which are not possible to implement in regular education. The visual approach of explaining chapters is the main reason for the expansion of these applications. Students can understand and grasp more in less time without stress.
Availability: The digital approach is popular because of the availability of resources without any time-bound. Students can access video classes, take tests, get assistance anytime with a good internet connection.
Save Time & Money: We can access the learning content anytime from your place. It reduces the travel cost and time, meeting place and also material prints.
Repeat Classes: You can listen to the same class any number of times till you are familiar with the concept. Students can access the videos anytime for clarification or revision before the examination.
Entertainment: Learning is more fun when combined with games and quizzes. The learning applications have introduced gaining badges, points, and pass levels whenever you complete a concept. It will help your children to be more determined and develop an interest in learning.
Panels of e-Learning Apps like BYJU's
Any learning app like BYJU's performs in three levels of functionalities as mentioned below.
Student Panel
Student functionalities make the user access a hassle-free process. We have listed a few elements of this functionality.
Easy registration
Chat and Calls
Subscription plan selection
Search filter
Profile Creation
Password recovery
Perform Test and Results
Admin Panel
This section is to manage and provide services to the users. Here are the few admin panel features
Respond to complaints
Send notifications
Transaction management
Update game levels
Performance test results
Contact support
Teacher Panel
This panel will help the instructors for easy interaction with the students. The features available in this panel are
Register account
Video calls and chats
Account update
Forgot password
Add new video classes
Update syllabus
Market Value of e-Learning Apps
The mobile learning applications are the most downloaded apps on Android and iOS platforms across the globe. Introducing digitization in the education sector in the past five years is a primary reason for market value increase. The Covid-19 pandemic situation has upgraded this growth to the next level because of schools, universities, and coaching center shutdown. The usage of new technologies like cloud storage, artificial intelligence has brought significant change in education. The market value of these learning apps has increased to $250 billion in 2020 and expects to grow 21% in the next decade.
Get in touch with our experts to know the detailed process of Android app development and iOS app development.
Tech Stack to Develop Learning App like BYJU's
You should have efficient technologies to make any mobile application function effectively without any crashes. Here we have listed the basic tech stack of programming languages, databases, frameworks required to build an e-learning app like BYJU's.
Programming Languages: Kotlin, Java, Swift
Database: MongoDB, MySQL
Notifications: Twilio, Push.io
Cloud Environment: AWS
Frameworks: Hadoop, Apache Flink, BigData
How Much Cost to Develop Learning App like BYJU's?
The features and functionality of any learning application impact the development cost. We can give an estimated value of $35,000 to $70,000 to develop an e-learning application with all advanced features. The final development cost may vary depending upon the resources and development time of the application.
For more precise details, contact Hyena, the best mobile app development company in India and the USA.

Factors Impacting the Development Cost of e-Learning Apps
Few key factors affect the building cost of application. Let us see them in detail.
App Design: The simple UI/UX app design cost less than advanced features and functionalities. Make a list of features you want to include in the app before reaching the app developers for cost estimation.
Platform Support: The development cost of an online learning app depends upon the platform we choose to launch the application. The cost of developing an app for iOS is less than the Android operating system because of the number of tests to perform.
Location: The development cost of apps is slightly less in India than in the United States and other European countries. It is because of the high hourly charges of app developers in those countries.
Team Size: We need to have a complete team of app developers, designers, managers, and testers to build an application. If your mobile app development partner does not have enough resources, you need to hire new people, which affects the development cost.
A leading learning app development company, Hyena has a handful of experience in developing apps for Android and iOS platforms. Contact us to build your app within the budget and time.
Conclusion
Here, we have given complete details about the development of mobile learning apps. These applications can bring education to your place anytime and make the learning process simple, effective, and appealing. The market size of e-learning apps is increasing in recent years, and it is the correct time to launch the online learning application.
Why Choose USM for Developing Your Mobile Application?
Hyena is one of the best mobile app development companies in India and the USA. It has all resources for developing mobile apps for Android and iOS and handover to you in promised time.
You can reach out to our expert mobile app developers with a free consultation to build your ideas and develop mobile applications.