How Much Does It Cost To Make A Video Calling Mobile App?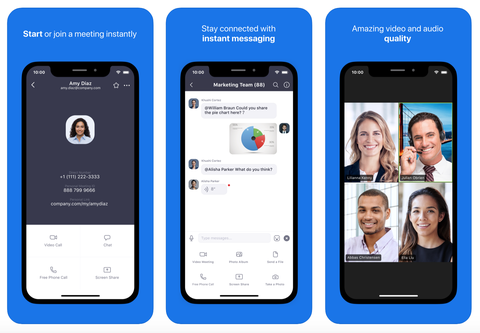 How Much Does It Cost To Make A Video Calling Mobile App?
Video calling has become a basic part of today's professional or personal communication online. Moreover, since the outbreak of COVID-19, the popularity and demand for mobile video chat apps have been increasing ever like before.
During COVID-19 lockdowns, 90% of the IT companies have dependent on video conferencing apps to conduct online meetings and communicate with their workforce.
Uninterrupted network connection, high resolution, microphone facility with crystal clear audio quality are a few significant drivers of video chat apps popularity, demand, and usage in the market.
Facetime, Zoom, Skype, Google Duo, Microsoft Teams, and WhatsApp are the best examples of a few successful video conferencing services providing apps with incredible speed and high resolution.
If you are looking to hire the best video conferencing app development company to kick start a new service line, we help you out. Herein, we give you a detailed guide on the cost and benefits of building a video calling app like Skype in 2022.
Significant Stats Of The Best Video Conferencing Mobile Apps
IT, retail, e-commerce, and service delivery-like industries are still facing hurdles to raise their profits and balance their financials since the outburst of COVID-19. Most of the companies have not yet started and given work from home flexibility to their employees to break the chain of infection.
Moreover, with the quick spread of the third wave in Europe, the Americas, South Africa, and China-like countries, companies are again in a dilemma to start offline business operations. This market forecast is expected to increase the demand for video calling apps development worldwide.
Here are the key statistics of video calling apps that let you understand the market value of their development.
Mozilla says that over 70% of people are use on-demand video calling apps to make personal video calls.
Statista research reports confirm that 2020 and 2021 are the profitable years for skype, Microsoft Teams, and Zoom like professional video chatting apps
According to another market report, nearly 60% of people in the USA are using the best video conferencing apps like Facetime and Zoom for professional communication purposes.
Approximately 80% of users of popular video calling apps like WhatsApp are accessing full video features for their personal or professional uses.
These numbers have proved the market demand for video chat apps in 2021 and the years ahead.
How Businesses Benefit From Video Conferencing Apps Development?
The market value for video chat apps is growing at a rapid pace.so, if you have plans for video chat app development on Android or iOS platforms, make sure of how these apps are beneficial to your businesses. Here we go!
A new online video chat application development or integration of video calling service in existing app opens new doors for profits. Adding video chat features to your application increase user count and modernizes your application look and feel.
Since April 2015, Facebook has introduced video calling facilities to people in selected countries but for personal communication purposes. In April 2016, the popular social media networking app (Facebook) opened up the door for a group voice calling facility with a maximum of 50 participants. Such integrations have extended the brand mark and increased the number of users.
Video Conferencing apps are more engaging than apps with just an audio facility. Video call meetings ensure a superior level of engagement of all participates. Online audio or video chat apps allow as minimum as 5-8 people in each meeting to participate.
So, enabling audio features provides interactions and reduces the quality of listening due to external sounds. But, face-to-face conversations through video-enabled mobile apps allow people better communicate and understand the purpose of the meeting.
Online video chat apps help marketing executives or customer support teams to interact well with customers and let executives better engage the audience. So, businesses instantly connect the user to a sales representative who can help guide them in clarifying their queries. So, such video-based communication features in apps will improve service quality and brand credibility.
Video call integration with screen share
Video calling is an advanced feature that adds spice to general online chatting apps. In particular, in this COVID pandemic, video conferencing apps become like a bridge and bring all remotely working employees into a single platform.
Further, the mobile screen sharing feature of video chat applications is the next growth pillars for its success in the market. The apps allow users to share their screens and come to a conclusion quickly. Therefore, video calling applications reduce distance and improve organizational productivity.
Which Industries Will Benefit From Video Calling Apps Development?
Video conferencing apps usage is not only permitted in the IT industry for conducting group meetings. Video calling applications development will ensure bright business scope for businesses across various verticals.
Healthcare Industry
Practo-like popular e-healthcare apps have already proved their efficiency in this emerging digital world. Video calling mobile apps are allowing patients to get instant services from specialists. Physicians can also interact with in-patients to know their health conditions. Hence, the scope for video conferencing apps development for the healthcare sector is bright and profitable.
Education Industry
In this pandemic, the demand for online education or e-learning is growing. From primary and secondary schools to college boards and universities, everything went digital during lockdowns.
Video conferencing apps have played a crucial role and laid a bridge to connect students and instructors digitally. Interactive video sessions helped students to learn subjects by comfortably sitting at home.
Field Service Industries
Likewise, high-resolution video calling apps are also drawing demand from field service industries such as manufacturing, real estate, and retail for tracking work performance and improving productivity.
We hope that you have got the solution for converting your unprofitable business to profitable in 2022. Yes. Video calling application development will be the right choice to serve competitively in the third wave of the COVID-19 season.
Well. Here are the basic and advanced features of video chat apps.
Must-Have Features Of Video Calling Applications
Before starting the video chat app development, a mobile app development company should compile a list of the best features that makes the application unique from the crowd.
The basic features of video conferencing apps include:
User Login
Profile Creation
Search Facility for finding contacts
Join meeting with meeting ID
Schedule meeting
Send Meeting invite
Video meeting
Flexible Audio or video calls
Push notifications to remind of scheduled meetings
Microphone On or Mute option
These are the basic key features of the best video chat apps. Here are a few more advanced features that you can look at while the development of video chat apps.
Advanced Features That Add Value To Video Chat Apps
Virtual hand-raising feature
Unmuting participates and listening to their views on a specific topic is a messy thing. Virtual hand-raising is an advanced feature that allows participants to express their feedback by tapping on a virtual hand emoji.
This feature will help other participants to know the opinion of the group members on a common question. Hence, the meeting organizer need not unmute all the participants and prevent blur sounds.
Simultaneous Chat and Video Facility
In-app chatting is a common feature. But, if your video application allows participants to chat with a particular person or group members in real-time during a meeting, then your application will be get featured on app stores shortly. #Top mobile app developers can also add this feature for a better user experience and to make the application more collaborative.
Don't forget to give the requirement of this user-friendly feature development to your Android or iOS app developer. This feature allows group members to share their screens instantly. So, participates can view the other work progress and make a discussion if any changes are needed in their effort.
Auto Record Meeting Sessions
Mobile app development companies can make the application more advanced by integrating record meeting features. Meeting organizers or speakers can record the HD quality crystal clear video with audio and send it to other people who are missed the meeting session. On the other hand, participants can also save the recordings to listen in offline mode.
Mute Or Unmute Selected People
Android/iPhone mobile app developers must need to add this feature in video chat apps. This feature gives the organizers the flexibility to mute or unmute specific participants.
Hyena, a top mobile app development company in the USA, creates best-in-class video conferencing apps for Android or iOS mobile devices. Our expert mobile app developers by using cutting-edge digital technologies can build video chat apps with the most advanced features list like in-meeting chat, auto-recording, screen sharing, virtual-hand raising, etc.
The Best Tech Stack For Video Chat apps Development Is Here!
Choosing the right technology stack plays a vital role in creating powerful and efficient mobile apps. If you want your video chat app to be more interactive, flawless, and crash-free for many years, then the below technology stack will work best.
Being one of the top mobile apps development companies (USA, UAE, Kuwait, and India), we create apps using the best tech stack.
Here are the most used programming languages, tools, and technologies video calling apps development.
Programming languages for developing video chat apps on Android platform– Java & Kotlin
Programming languages for developing video chat apps on iOS platform– Swift
Tools- Android Studio, Android Developer Tools, and Apple Xcode (for iOS)
API & SDKs- Twilio, Vonage Video API, Socket, and Wowza GoCoder SDK
Frameworks- Laravel, Laminas, and Angular
Database- MySql and Oracle
Streaming Protocols- RTP, RTMP SDK, and WebRTC
Cloud Platforms- Amazon S3 and Amazon EC2
Security protocols- AES-256 and HMAC-SHA256
Hyena, the best mobile app development companies USA, use high-performing programming languages and advanced digital technologies and create mobile apps that fuel the business revenues of our clients by 80%.
We can guess for what you are still scrolling down this page. You are looking out to know the cost of professional or personal video calling apps development.
How Much Does It Cost To Create A Video Calling-enabled App?
Video conferencing applications development costs with a set of basic features for one platform (either Android or iOS) will range from $30,000 to $55,000.
The estimated development cost of a video chatting application like Skype or Google Meet with medium-level complexity and user interface will cost around $60,000-$85,000.
But, this is just an estimated cost metric. The cost to make a video chatting app like WhatsApp or Microsoft Teams would depend upon a few factors like Features in the app, UI/UX Design complexity of the app, Application development platform, and Mobile app developer's experience, location, and hourly rate.
Request a free quote for your app!
Wrapping Up
Video chatting is the most convenient, comfortable, and safest communication line in this pandemic situation. Online video calling apps development has a bright scope in the future across the global market. As discussed in the introduction, Microsoft Teams, GoToMeeting, Skype, and Zoom have already set the benchmark for remote communication.
Hire the best video conferencing app developer and clutch the market opportunities before your rival does.
Are you looking for a video conferencing app development team in USA/India?
Hyena's mobile app developers are set to build a futuristic mobile application for your businesses!