How Much Does it Cost to Develop Saudi's Top Delivery App Like Mrsool?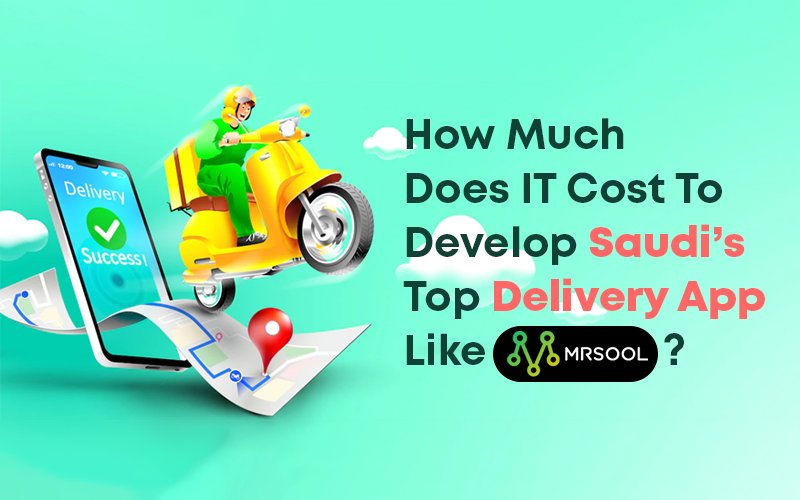 How Much Does it Cost to Develop Saudi's Top Delivery App Like Mrsool?
On-demand delivery services are on-trend in all the countries across the globe. Consumer convenience is the primary focal area, the companies across diversified sectors like food and beverages companies, travel agencies, and retailers are investing in on-demand delivery mobile apps.
Through this article, we would like to guide organizations that are looking ahead for on-demand delivery application development like Mrsool. The features, functionalities, benefits, and information related to the development costs will be covered in the below sections. We hope that this article will give you the best information on the development of the Mrsool clone app.
Mrsool Delivery App: The best On-demand Delivery App In the Saudi Arabia, the Middle East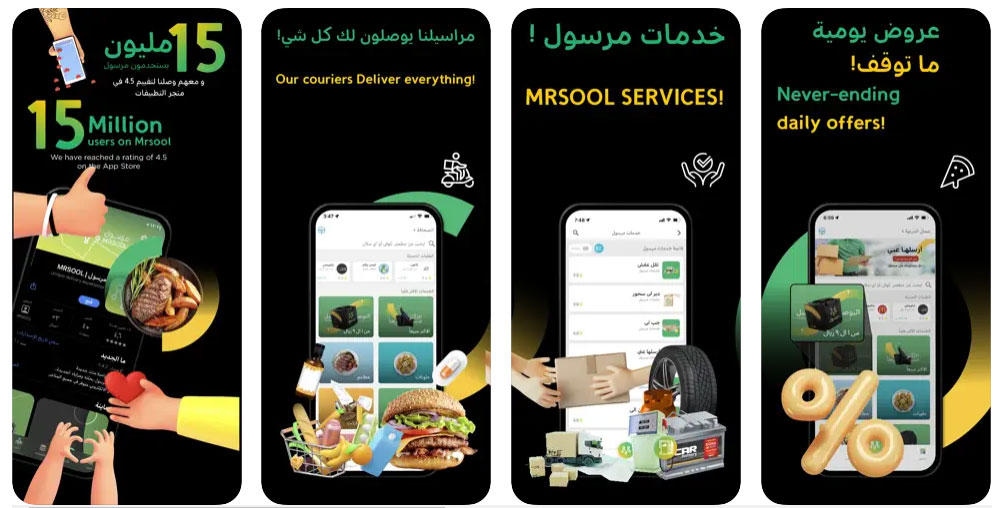 Mrsool is one of the top-rated on-demand delivery applications in the gulf countries. It is a popular delivery app that allows users to order food, groceries, accessories, garments, vehicle spare parts, and many other products at any time on the go.
Further, this most downloaded delivery app-Mrsool is also increasingly gaining popularity as the best courier delivery or on-demand package pickup/delivery service app in the Kingdom of Saudi Arabia. The agents or couriers will deliver packages within an hour.
Hence, unlike other single product delivery platforms, Mrsool delivers everything beyond clothes, food, and accessories. Right now, this emerging on-demand delivery app for iPhone and Android in the Middle East has a fleet of nearly 700K+ registered couriers who ensure fast and reliable deliveries.
On top of all traditional cool features, Mrsool's in-app ordering bot is taking this application to the next level. This virtual AI chatbot feature makes the online ordering process easier and faster and also ensures the best user convenience and experiences in accessing the application features.
Currently, the Mrsool app is available to download from Google Play Store and Apple App Store for free. On the number of downloads front, Mrsool's Android and iOS app downloads have reached over 12 million.
Driven by its success rate in Saudi, Mrsool- the largest delivery platform has also extended its services to Egypt and Bahrain.
Let's look at the best features and Cost to build an app Like Mrsool!
Features That You Much Add To Develop A Similar App Like Mrsool 
The development of a top delivery app like Mrsool in Saudi will assist businesses in creating strong and long-lasting relationships with the targeted audience and optimizing their service level in all aspects. Mrsool clone app development will help deliver all the needs of your audience within two hours and scale your business growth to heights.
Here are a few user-friendly features and functionalities of Mrsool that are ensuring its popularity and success in the Gulf countries.
If you are looking to develop a Mrsool clone app, then you must partner with the best mobile app development company in Saudi Arabia, Middle East.
Order Food: Users can order delicious meals from neighborhood restaurants online and get them the right way at doorsteps within one hour
Order Groceries: Retailers can benefit from Mrsools's on-demand service business model. They can list on this popular multi-product delivery platform and clutch sales opportunities with ease. Hence, Mrsool-like on-demand grocery and home essentials delivery app development will let your audience order groceries nearest stores.
Integrated Map Solution: Mrsool mobile app is developed with map integrations. This user-centric feature will allow users to locate their delivery locations or package pickup areas on the map. It will help delivery agents navigate the destination address in real-time.
Send/Receive Parcels: This feature has made Mrsool the largest on-demand delivery mobile app in the Middle East. It allows users to view courier's service ratings and order them to pick or drop their packages at desired locations.
Network Of Restaurants & Stores: Mrsool, the best online food ordering and delivery app in Saudi Arabia, has a network of thousands of restaurants and stores on its platform. Management of such a wide network will improve service reliability and brand credibility across your operating regions.
Digital Chatbot Assistance: Users can use the Mrsool AI bot for ordering products with voice commands. It is one of the most advanced features of the Mrsool software application.
Order Tracking In Real-time: The application is designed with map integrations that allow users to track their order status and also help delivery agents to track the customer's destination route.
Order History & Re-order Facility: Mrsool Android or iOS version allows users to view their order histories with simple clicks. The user-friendly interface of this most-used on-demand delivery app will also enable users to instantly repeat their favorite orders with a single click.
Flexible Digital or Cash Payments: This trending delivery application in Saudi Arabia will let customers pay for orders in a way they are convenient.
Discounts & Offers: It is a feature where you can grab the attention of users and build a path for an increased number of conversions.
Push Notifications: Push Notifications: Since Mrsool offers a wide range of different delivery services through a single platform. The app has to pitch the different type of audience. Its push notifications feature will help to notify users about offers, discounts, and order status etc. It will optimize the service quality and increase the app personalization.
Easy Registration and Login: Make sure of the design of the Mrsool clone app. A simple and easy registration page will grab the attention of users and reduce the rate of app bounce rates.
In-app Calling Or Chat Facility: Customers can directly call or chat with delivery agents to know the status of their orders or parcels.
These are a few customer-centric features that are increasing the uniqueness, user-friendliness, and popularity of the Mrsool application.
Similarly, for better managing delivery agents and brands that provide services through this platform, mobile application development companies must create powerful features for the admin panel development of a delivery app. They might be:
Vendors management
Couriers Management
Customers Management
Orders Management
Promos Management
Notifications Management
Hyena will create a powerful dashboard where the admins can visualize all the above data in a grid view.
Get a free app development quote!
Benefits Of On-demand Delivery App Development Like Mrsool
On-demand delivery app development will drive and scale up online profits for businesses. Mrsool-like multi-service delivery app is the best one-stop solution. It benefits app users and businesses.
Retailers, restaurants, and other companies can streamline operations and completely renovate their traditional sales operations. Ease of accessibility, 24*7 brand availability, convenience and comfort, simple features, and investment-friendliness as a few of the significant advantages, on-demand delivery applications are becoming the best assets for brand promotion and witnessing a sharp hike in sales.
Talk To Our App Development Experts and Get a Free Quote!
How Much Does It Cost To Create An App Like Mrsool?
It's a challenge for mobile app development companies to design and develop an on-demand delivery applications that meets the fluctuating demands and preferences of the users. The development of Mrsool clone app is a really challenging task for custom software development companies. Since this application has set a benchmark in the Saudi's online delivery business, the development of its clone needs to be balance this craze to be competitive in the industry.
Hence, if you would to develop Mrsool like on-demand delivery application, then your clone app should be integrated with Food and Beverages Delivery services, Groceries delivery services, Courier services, Medicine delivery services, Transportation and logistics services, and other services.
If you want to gain profits from your delivery app, then partner with Hyena, the best mobile app development agency in Saudi Arabia, UAE, USA, and India.
Hyena, being the best custom mobile app development company in Saudi Arabia, the Middle East, will create bespoke mobile apps for the online delivery service providers. We have a team of forward-thinking development strategists, creative app designers, skilled developers, and testers who contributes to developing mobile software solutions that drive business growth.
According to our estimation, the cost of an on-demand delivery app will fall from around $20,000 to $70,000. But, there are various factors (like features, platform type, application type, technology stack, design complexity, team size, location of app developers, etc.) that impact the final cost of Android or iPhone apps.
Let's Connect and Share Your Delivery App Requirements!
Wrapping Up
On-demand delivery apps in Saudi Arabia have received a great response from the targeted audience. In particular, Mrsool-like a leading food, groceries, accessories, car parts, and parcel delivery app in Saudi has much craze in the gulf nations.
It is the best time for e-commerce or other service providers to come up with a unique delivery platform like Mrsool. In this competitive digital landscape, Mrsool clone apps development is profitable and a futuristic option.