Hyena Recognized As A Leading Android Apps Development Company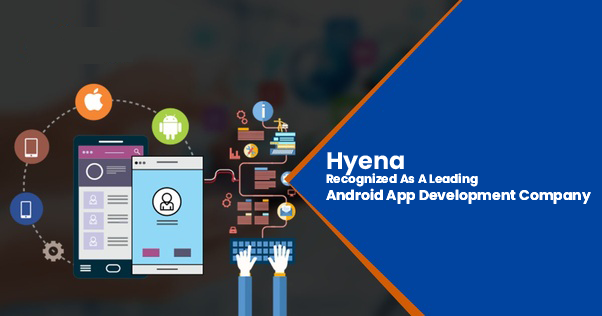 Hyena Recognized As A Leading Android App Development Company
Android App Development is a hot topic in the business environment. Every enterprise is moving ahead to invest in Android mobile applications with great confidence and with big hope for a near-term profitable future. Irrespective of their niche, businesses around the world started analyzing the market dynamics and perceiving customers switch to online services.
They also believe that Android app development services will assist them to cover the large target group since android covers over 80% of the smartphone market share. Hence, Android mobile applications development is the right decision for enterprises to expand their user base and deliver services to a more targeted audience.
Hyena Information Technologies (Hyena) has a stronghold on creating top-notch android apps for clients across varied industries. We have over two decades of experience in state-of-the-art native android apps development. We also offer iPhone or iOS apps development services for startups, enterprises, and organizations that serve in diversified business verticals.
Today, we are very proud to announce that our efforts, commitment, and dedication in delivering high-quality end-to-end android app development services got appreciated by industry clients, and our brand was recognized as a leading android apps development company.
Our app development services range from market analysis, competitor analysis, and requirement gathering to User Experience (UX)/User Interface (UI) designing, mobile and web apps development, testing, and app support and maintenance. These end-to-end software application development services made us a one-stop-destination for enterprises who are looking for mobile apps development services to bring their businesses online and approach more audiences.
Hyena's professional and mobile app developers and UX/UI designers with years of proven knowledge in developing mobile, web, and software applications will create a best-in-class app for your business.
We have also a team of developers and designers who are experts in multi-vendor or single-vendor e-commerce apps development, AI (Artificial Intelligence) & ML (Machine Learning) mobile apps development, HRMS (Human Resources Management System) software application development for mobile and web platforms.
Recommend to read: Best Technology Stack For Android & iOS Mobile App Development
How Can Enterprises Benefit From Android Apps Development?
Driven by its core features, such as customizable UI, high security, and scalability, many enterprises are choosing customized Android app development as their lucrative path. Here are a few other benefits of investing in android apps development for businesses.

Advantages Of Android App Development For Enterprises
Higher Market Share
A noteworthy point that I would like to share with all my readers is that Android Operating System acquired approximately 85% of the global smartphone market share. It is the most dominating mobile platform worldwide.
High Returns On Low Investments
Mobile app developers can easily avail of Android Software Development Kit (SDK) since it is an open-source platform. App development teams can use Android SDK and create engaging and interactive customizable mobile apps at a lower investment.
Moreover, its device compatibility feature allows developers to use multiple devices to develop and test the apps. So, mobile apps development on the android platform is cost-effective and provides you with higher RoI.
Enhanced Security
It is another significant benefit of android application development for businesses. Android platform is best in ensuring high security to the mobile application. Its built-in functionalities protect the app data against breaches or any malware attacks. Android OS has a proven track record of zero-information leakage and platform crashes.
Google has released its newly updated versions of Android 10 and Android 11 "R" with more privacy features. With such advancements in privacy and security parameters, Android will be the right choice for businesses to invest in desired mobile apps development.
Device Compatibility
Android is a versatile platform. The android interface can be embedded into a range of devices and promises a consistent performance across them.
It can be used for developing mobile apps, web apps and also for creating immersive apps for wearables like smartwatches. On the other hand, Android can be easily integrated with wearable technology and enable users to manage device information efficiently.
Easy To Adapt
Android platform is the best solution for enterprises who are looking for app customization or integration of new features into an existing app in the future. Android OS gives flexibility to app developers to customize the features with ease. Developers can integrate and twist the mobile application that is developing on android OS according to business needs.
Takes Less Development Time
In this digital world, those who stand in the first two or three places will get hired by end-users. I mean to say that quick launch results in more audience over your rivals. Application development on Android OS helps mobile app developers launch a business app as soon as possible into the market.
Being the best android apps development company in the USA & India, Hyena promises quick android apps development without losing quality. By integrating the modern and useful features into your future application, we give it to life in a shorter time and save your money.
Hassle-free Implementation
Java is one of the first and most used programming languages for Android application development. Followed by, Kotlin, C++, and Python are all the next popular programming languages for android apps development.
Since Android apps are scripted in Java language, implementation and execution of android apps are simple for those who know Java. Java programmers can adapt and write code for mobile apps in the Android operating systems.
Robust Support
It is one of the most significant benefits of developing mobile apps using Android OS. Android OS is a commercial mobile operating system of Google. So, Google supports mobile app developers to integrate enterprise-centric Google apps such as Gmail, Google Maps, and Drive into their Android apps with ease.
Quick Brand Expansion
The android operating system was the best-selling platform on smartphones for the past few years. As of May 2021, Android OS has over three billion monthly active users, the highest number of any other OS. On the other hand, Google Play Store has over 3 million free and paid android apps as of January 2021.
These stats reflect the growth opportunities of android apps development for businesses. In particular, startups will be more beneficial. They can promote their products, services, and brand globally through android apps since the user base of Android OS is high over iOS.
Recommend to read: Biggest Challenges Faced by Android App Developers in 2021
 How Much Does It Cost To Develop An Android App?
The mobile apps development cost can be estimated using the below given simple formula.
Mobile app development cost= Hourly rate of mobile app developers * Total development time (for app design, front-end, and back-end)
This formula is applicable for all types of application development, and businesses can easily estimate the cost factor. Hyena's expert app development consultants estimate that the development cost of either Android or iPhone apps might be around $15,000 to $250,000.
However, this Android project cost will exceed the estimated limit based on the app features, complexity level, and geography of the mobile app developers. Here are a few significant factors that impact the cost to develop an android app.
Android App Development Cost Impacting Factors
Integration of advanced features
Application size (Small, Medium, or Enterprise level app)
Application type (native, cross-platform, or PWA)
The complexity of UX and UI designs
Integrations of third-party APIs like Google Maps
Integration of PayPal like payment APIs
Offline Vs online support
Along with these factors, Android App Development costs will also vary based on industry type. It means that the development cost of social media or networking mobile apps and e-commerce apps will differ from the development cost of highly confidential banking and finance apps, gaming apps, and virtual AR/VR mobile apps.
For instance, the development cost of Social Media Apps on Android OS will be around $30K-$50K, whereas, the cost to build Healthcare Apps for android will range between $45K-$100K and AI/AR/VR Apps cost will be $50K-$350K.
Final Words
#Android App Development is the right solution for businesses to reach a large audience base in this competitive digital world. Hyena is ranked as one of the best Android App Development Companies in terms of over 20+ years of experience, excellent portfolio, high-level app developers, and reliable app development services. We assist enterprises in reaching their targeted audience digitally through mobile apps.
By leveraging modern AI technologies, we offer top-notch android app development services. We quote every app project at an affordable and reasonable price.
Do you have an Android app development idea?  Let's talk and get a free app quote right away!