How Much Does It Cost To Develop An App Like Tamara?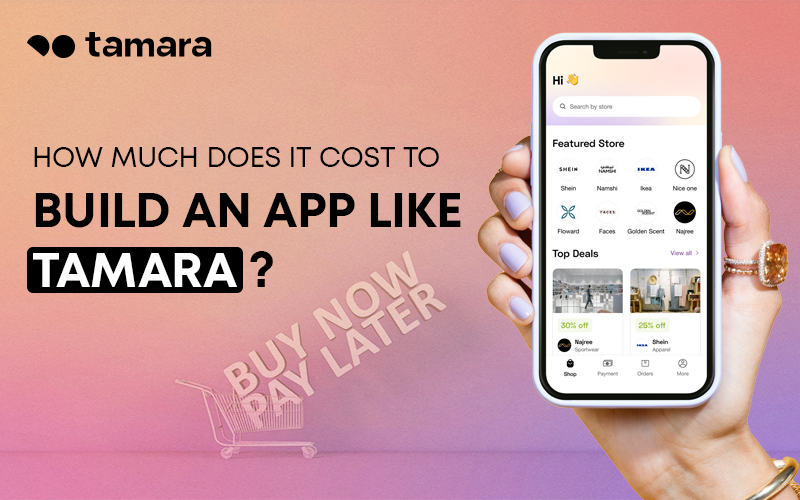 How Much Does It Cost To Develop An App Like Tamara?
Approximately 80% of purchases (might be any kind) and even payments are online!
How many of you agree with me on this statement?
I hope that most of my readers show their thumb up. Yes. The world of businesses and individuals has switched to digital. They have adopted online trends for experiencing a superior level of convenience and personalization.
Along with online shopping apps or e-commerce applications, the craze for online payment solutions for Android and iPhone is also on its surge. Moreover, since the outbreak of COVID-19, mobile payment apps or e-wallet apps have witnessed tremendous growth ever like before.
Instead of counting liquid cash and paying money to the merchants for their purchases, people worldwide are just unlocking their payment apps, scanning barcodes, and paying instantly with simple taps on their mobile screens.
On the other side, 99% of small-to-mid-sized merchants and multinational brands have accepted this digital move and offering online payment services to their in-store or online customers.
Apart from buying and paying online apps, the trend of Buy Now & Pay Later mobile apps is making waves across the global markets. With a mission to reduce the burden of big bill amounts, "Buy now and pay later Fintech apps" are helping customers to pay in affordable and interest-free installments. These apps have witnessed tremendous growth, especially in the pandemic season. The unparalleled financial crisis of people during the pandemic has opened doors for FinTech mobile apps development and growth.
Today, we would like to talk about one such popular mobile FinTech solution- Tamara. In this article, we'll give you a guide on features, benefits, and costs of the Tamara-like popular buy now pay later app.
Let's get started!
All About Tamara App- The Best FinTech App In Riyadh, UAE
Tamara is one of the quickly emerging buy-now-pay-later FinTech startups in the UAE. With a vision to make payments easier, faster, and stress-free, this popular buy now pay later service app allows its users to shop on favorite brands and split their total bill amount into 3 easy monthly repay installments. Moreover, users of the Tamara app can pay their payments later within 30 days of the accepted duration.
Since its launch in September 2020, this popular online payment solution enables online and offline retailers in Saudi Arabia, UAE, and Kuwait to offer hassle-free buy and split payments services to their customers. As of May 2021, this trending mobile payment app has a network of more than 1,000 merchants across the MENA region and South-East Asia, including Vietnam and Germany.
Currently, the app is available to download from Google Play Store for Android users and Apple App Store for iOS users. This popular Fintech app in UAE has acquired a 4.7/5 star rating from 23,963 Android users and thousands of iPhone app users.
Features and Functionalities Of The Best Online Payment App like Tamara
With concepts of shop and split payments and buy now or pay later, Tamara is attracting a huge number of Android and iPhone users. Its user-friendly features and simple and attractive User Interfaces (UIs) are other reasons for its quick success in the UAE's digital market.
If you are looking ahead to Tamara-like Fintech app development, this session would helpful since we have listed a few significant features of the Tamara online payment application. These features are playing key role in its success across the MENA (The Middle East and North Africa) countries.
Here we go!
Easy Registration and Login
Tamara is available to download from Google Play Store and the applied app store. Once the user downloads the application, app installation or bounce rates will depend on the app accessibility that you offer to your targeted audience. Let your users register with one or two credentials and access your app faster. It will ensure quick app acceptability and improve installation rates.
Tamara-like leading payment app in UAE is providing quick app-accessibility by verifying user identity using mobile number and given ID details. The app will ensure instant approvals in minutes to use its functionalities. So, if you are looking for Tamara clone app development, make sure to design simple yet attractive user signup and login modules.
The landing page is the heart of mobile and web applications. It is the place where users will navigate into inner service pages and search for their desired online services.
Tamara, one of the #top Fintech mobile apps in the UAE, the app is designed and developed with an easy-to-understand landing page. Users can shop by brands and find deals on products/brands, and make their entire online shopping experience hassle-free.
Let Users Shop At Their Favorite Brands
Tamara-like best-in-class payment app allows its users to shop at their favorite brands, including Shein, Faces, YSL, Floward, IZIL, Nice, Namshi, and many more, and enrich your shopping experience. Hence, the Tamara app let users shop across nearly 1,000 popular brands and stores.
Discover Deals and Get Discounts
It is another best feature of the Tamara-like most downloaded online payment app in the UAE. Users can get exclusive deals and discounts on popular brands. To increase the user base, this Fintech Company is also offering attractive discounts by referring app services to others.
Next-level Payment Options
This feature is making Tamara a unique payment solution for the people across the Middle East region. Interest-free payments in three installments without any paperwork will ensure the best app digital experience and removes the burden of big bill amounts in single pay. Users can split their payments into three installments or pay later in 30 days.
Get a free Fintech app development quote!
It is one of the best features of online business apps. The merchants or featured brands can send push notifications to the users regarding deals, discounts, and payments. Users do not need to track their orders frequently, the app will continue to update with the recent activity and send status notifications to them.
Tamara, the best online shopping platform for Android and iOS, will also allow users to stay on top of their EMIs payments and never let them pay any extra amount as bounce charges. It is one of the most unique and user-centric features of Tamara-like leading FinTech application in Saudi Arabia.
These are must-have features to add to your Tamara-like UAE's popular Fintech mobile app.
Are you looking to hire FinTech Mobile App Development Company?
Let's connect and Explore Market Opportunities Together!
How Can You Generate Revenues From Tamara-like FinTech Apps?
Buy Now Pay Later Apps development is a trend across the world. Organizations and top custom mobile app development companies in UAE, USA, and India coordinatially creating miracles in the FinTech space.
Tamara app is one such example of a FinTech company that aims for innovation. Instead of charging from customers and putting financial pressure on end-users, online shopping brands and local merchants partnering with Tamara-like Fintech Company to increase sales conversions and brand credibility.
Tamara is paying for customers' purchases and collecting from them later within a scheduled period. It is like how we use the credit card and pay our bills later.
Here are a few best app monetization strategies that you can implement if you go with Tamara-like Buy Now and Pay Later FinTech app.
Take Commissions from shopping brands.
If you develop a Tamara-like custom software application, you can take commissions from brands that would like to partner with you.
This is where Tamara application is drawing huge revenue flow. Though Tamara is an online payment solution, it is also popularizing as the best online shopping app in the UAE. Domestic and multinational brands are in partnership with Tamara to sell their products over online platform.
If this is the case, Tamara clone app development benefits businesses in terms of extra commissions on every order. We mean to say that you can collect commission from listed brands on every successful order.
Take Fees For Featuring Brand Names On Top of The List 
It is the smart app monetization strategy. Featured brands or products will grab the customer's attention and have higher chances of sales conversions. Take this as the key point and Tamara-like FinTech app developers can charge additional fees from brands to feature on top and gain a competitive edge over other companies.
Collect Bounce Charges From Customers
Generally, Tamara-like the best online payment app for Android and iOS does not charge any fees from customers. But, as it is a Fintech application, you can collect EMI bounce charges from customers.
Mostly, the Tamara-like app never lets its users miss their EMI payment as it payment notifications before due dates. But, if the customers missed their bill payments on scheduled due dates, you can collect extra forfeit fees. Tamara's application imposes 25 SAR/25 AED/2KWD as late fees from customers in Saudi Arabia, UAE, and Kuwait.
These are the most useful and results-driven Fintech app monetization strategies that you can go for generating additional money from Tamara-like online payment cum shopping applications.
If you already have an e-commerce application or marketplace app, integrate buy now and pay later like payment option and enrich the app experiences.
What Are The Benefits Of Adding Buy Now Pay Later Payment Option In E-Commerce Application?
You can improve customer experiences by allowing them to pay the partial price of their purchases and pay the rest amount in easy installments.
0% interest or no hidden charges will increase brand credibility
Buy now and pay later like user-friendly features improve app login rates.
Attracts more customers and increases purchases ratio
Let your customers pay in easy installments or pay later within 30 days.
Steady revenue flow
Higher conversion rates
These are a few advantages of Buy now pay later type popular Fintech solutions.
How Much Does It Cost For Tamara-Like Fintech App Development?
Being the best mobile app development company in Dubai, UAE, and Hyena helps you introduce an extraordinary FinTech solution with crazy features. We estimate that the cost of a Tamara-like online payment solution for a single platform will cost around $30,000-$60,000 with attractive UI and advanced in-app AI Chatbot assistance like virtual customer assistance functionalities.
On the other hand, the development cost of a fully advanced Fintech app for Android and iOS platforms might exceed the estimated budget boundaries and go beyond $150,000. It depends on the set of features that you added to your application.
However, as discussed in other articles, never stick to the estimated price quote because the cost will be impacted by many other factors rather than features and functionalities.
The final FinTech app development cost will depend on the application platform/ OS compatibility, UI design complexity, team size and location of the app developers, and the hourly charges of mobile application development companies in UAE or other regions that you hire.
Hyena, the best mobile payment apps development company in Riyadh, UAE, has a team of expert full-stack software developers who builds outstanding mobile and web-based FinTech apps for your business.
Be it Online Loan lending apps, Insurance apps, Online investment apps, Digital banking apps, Consumer finance apps, Online bill payment apps, Budget management apps, or P2P payment apps, Hyena develops the most popular types of FinTech apps on your choice.
Get In Touch and Let's Together Create A Buzz In The Fintech Industry!