How Much Does It Cost To Develop A Ride Sharing App Like Lyft?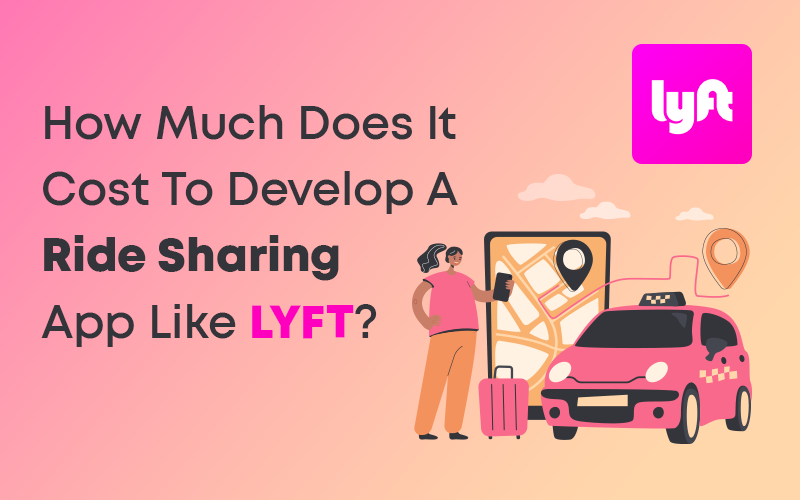 How Much Does It Cost To Develop A Ride Sharing App Like Lyft?
Travel Industry is one of the sectors which is always ready to adopt the emerging technology trends. Both software (mobile applications) and hardware (smart IoT-powered sensor devices) segments are witnessing a flourishing future in the transportation industry.
Public or private transportation agencies are focusing on the development of travel apps or online travel booking apps or cab booking apps for making bookings smooth and hassle-free.
Unlike ticket booking mobile applications, the demand for online cab booking or ride-sharing apps has been increasing all over the world. Travel agencies in partnership with leading mobile app development companies In San Francisco, California, are creating interactive apps that offer comfortable, convenient, safe, and secure door-to-door on-demand mobility services to their users.
Statista says that the ride-sharing and single-ride booking app services are witnessing a surge since the pandemic. People are not much interested in traveling in public transport facilities, and they switched to taxi apps for booking trips and reach destinations safely.
It is forecasted that the demand and market value of taxi apps is anticipated to reach USD 185 billion by 2026, with an increase of nearly 115% from 2021. Uber, Lyft, and DiDi are among the top online travel companies in the online travel booking industry in the USA.
Herein, we would like to talk about one of the very popular ride-sharing apps in the USA-Lyft. It is the right time for travel companies to create an app similar to Lyft. We have given brief information on Lyft app features, functionalities, and development costs.
Let's get started! 
Lyft App- A Popular Ride-sharing App In The USA  
The Lyft app is developed by Lyft, Inc., one of the top American transport service providers. Lyft is the second-largest ridesharing service provider in the United States after Uber. As of 2020-2021, Uber, with 69% of the market share, is leading the Online Trip Booking Industry in the country.
Lyft was launched in 2012 in San Francisco, California. Later, to make hassle-free rides available, the company rapidly expanded its online cab booking services to hundreds of cities across the USA and Canada.
Today, the Lyft app, with over ten million app downloads from Google Play Store and Apple App Store has stood as one of the best ride-booking apps in the USA.
Lyft allows users to book or rent cars, bikes, scooters, and premium luxury cars that suit their budget. Lyft is a solution for booking a convenient and affordable ride through your smartphone.
The app is very popular for its ride-sharing feature. The passengers can book rides, travel together, and split the total fare equally. It will reduce the burden of high transportation charges on a single passenger.
If you are looking to hire mobile app developers in the USA to create Lyft-like a famous taxi app you must know what features of Lyft are attracting millions of user base in the country.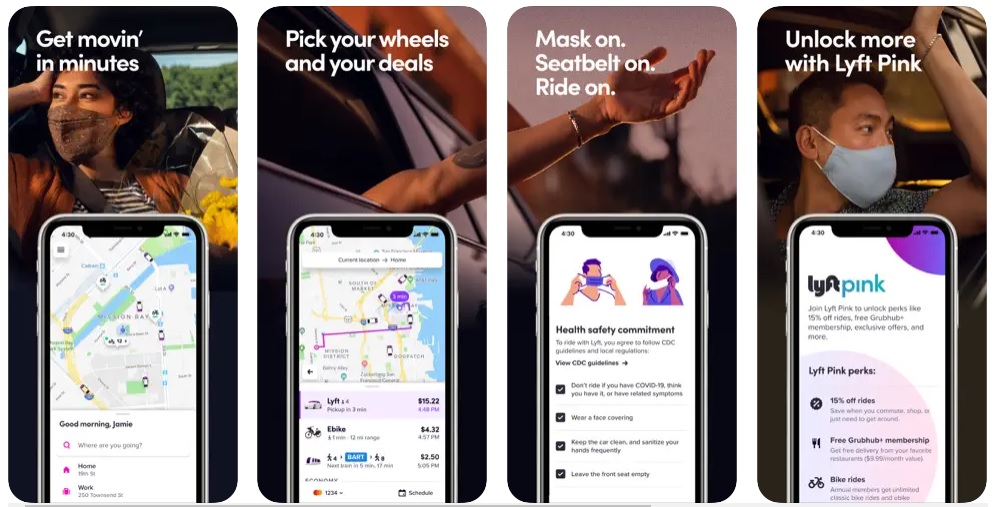 Must-Have Features Of Lyft-like Popular Cab Booking Apps USA
 Surpassing the million app downloads benchmark is a great achievement for organizations or app developers. Lyft travel app has made this possible. As of April 2021, the app has crossed the mark of 18.73 million installs. The credit goes to its user-friendly features and functionalities.
If you are planning to develop a Lyft clone app, you must add the below features to your new taxi booking app.
User-friendly Register and Login Module
The victory of your travel app will depend on how much ease and user-friendliness you offer to app users. Whether you hire an android app development company or an iOS app development company, make sure that your app's registration or login page should be as simple as possible. It should enable users' quick login and easy app access.
Lyft app, a popular on-demand cab booking app in the USA, is offering hassle-free login modules. Users' can register using their mobile numbers or social medial logins and verify their identity in just a few minutes.
Search and Schedule A Ride
Lyft is the safest travel app for booking a ride and traveling alone or with other passengers. By entering pick-up and drop locations, the Lyft app allows users to book or schedule rides as per their needs. Users can search and access various travel options in a faster and easier way and book their rides based on their budget and convenience.
Here are the rides types that Lyft-like popular online taxi booking apps offer to their users:
Safe, hygienic, and hassle-free rides
Schedule and enjoy a seamless rental experience with Lyft
Book and ride on eco-friendly bikes and scooters
Budget-friendly private rides with the best riders
Book Premium rides on super-luxury cars with top-rated drivers
Accordingly, based on the hectic travel schedule of passengers, the app allows them to book faster direct rides across traffic-free routes.
Offering these options to passengers improves their app experiences, personalization, and brand popularity. Hence, if you go for Lyft clone apps development, make sure of offering multiple travel options as per the user's needs and budget limits.
It is one of the unique services offered by Lyft. It allows users to opt for priority pickup for reducing wait times and reaching destinations faster in an emergency.
Faster and Easier Cab Booking Facility
The user interfaces of the Lyft app are the best weapons for its success. The app with a simple user interface allowing users to select ride types, check fares, and book rides smoothly. It will make ride-booking faster and optimize conversion rates.
Location Tracking Functionality
Lyft app is empowered with geo-location tracking functionality. Driven by this feature, Lyft-like most-downloaded taxi booking app will automatically tracks the user current location. Hence, the user's pickup location will be pinned with ease. If they want to book for others, they have to locate the exact pickup location manually on in-app maps.
However, cab booking apps for Android and iOS with geo-location tracking feature saves users time and improve app experiences.
GPS Facility To Track Booked Rides
Lyft, the most popular online cab booking applications for iOS or Android, offers advanced tracking functionalities that enable users' to track the exact location of riders or current ride on the maps.
Integration of booking history feature in Taxi apps or online cab booking apps is mandatory and beneficial. This feature help users to view their past, scheduled, and upcoming ride details by gently clicking on mobile screens. This feature also makes the re-book the trips easier and faster.
Lyft is one of the most-downloading taxi booking apps in the USA. Users can select pickup and drop, find cabs of their choice, and make in-app payments in minutes.
Push Notifications In Real-Time
Lyft-like apps will send push notifications in real-time regarding ride arrivals, estimated arrival time, estimated reach time, booking confirmation, driver and vehicle details, payment confirmations, and many more. These updates will help passengers know about their rides and other information about their bookings.
Here is a spicy feature that let service providers attract more users and use the app services. Uber and Lyft-like famous ride-sharing apps in the USA and Canada are offering attractive discounts on rides and improving user experiences.
The flexible ride cancellation feature will add value to your application. It helps users cancel their rides any time before the drivers reach pickup locations. This feature improves app personalization and increases brand reliability.
The ratings and reviews feature will customers to give valuable feedback about the ride that they finished. They can also give star ratings to the driver.
Lyft-like USA's top online cab booking apps with this user-friendly feature allows app users to view their profile details or edit the given personal information if necessary.
Being, the best Taxi Booking App Development Company, we suggest you to design this page as simple as possible and give a flexibility to your user to check their trip details, rewards information, and deals and offers, etc.
Similarly, app development agencies needs to add a few features for developing drive module while Lyft clone apps development. Here are a few best features of car rental booking app for driver module development.
Significant Features Of Taxi Apps' Driver Module Development   
Driver Profile Management
Accept or reject rides
View trip details
Easy-to-use in-app navigations to reach pickup and drop locations with ease
In-app chat or call feature for better communicating with the passengers
In-app and hassle-free payment receiving facility
View ratings and reviews
Push notifications
Similarly, User management, driver management, ride management, ride tracking, payments management, push notifications, real-time reports, and analysis are all a few additional features for developing the admin interface of the ride-sharing apps.
These are must-have features of developing cab booking or ride-sharing apps. Hyena is the best custom mobile app development company in the USA. Our app experts have all courage and tech knowledge to create Lyft-like similar apps at an affordable budget.
How Much Does It Cost To Make An App Like Lyft? 
Lyft-like online taxi booking app development cost depends on the design, features, development platform, and application run type. Further, the mobile travel app development costs will also depend on the mobile app developer's location, team size, and hourly rate of app development. These all influence the development cost of taxi booking apps development.
Being the best Mobile Application Development Company, Hyena estimate that the cost to create an app like Lyft with basic features on a single platform will cost around $25,000-$55,000.
Accordingly, the mobile app development cost with medium complexity in the design and features list would range from $60,000 to $85,000.
On the other hand, the development cost of a Lyft-like travel application with Artificial Intelligence (AI) tech-powered AI Chatbot features will go beyond $120,000+ with ease.
Overall, the features and functionalities of a mobile application will purely decide the cost online cab booking application (Android or iOS).
Get A Free App Development Quote!  
Final Words
The market reports say that the ride-hailing and taxi booking apps are expected to generate billion-dollar business for travel service companies in 2022 and the years ahead. Uber and Lyft have occupied nearly 95% of the online cab booking industry.
Lyft app has generated over $2.3 billion in revenue for the company and the average revenue per rider also has been increased to $47.4 in 2021 compared to the previous year. If this is the case, the development of Lyft or Uber clone apps would be profitable.
If you are looking to hire ride-sharing apps development companies in the USA, get in touch with us. At Hyena, our team of mobile app development and custom software application designers in the USA will blend their technology experience into mobile apps and deliver simple yet efficient cab booking apps.
Tags 
#How much does it cost to create a taxi app – a Lyft clone development?
#Cab Booking Apps for Android
#taxi Booking Apps For iOS
#The cost of the creation of a Lyft clone